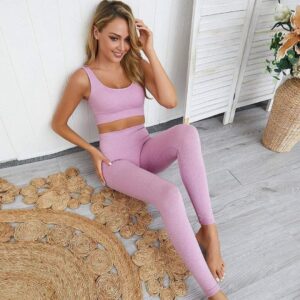 Fashion has become an integral part of our daily lifestyle. New trends and styles are ever evolving. What can be fashion today may be obsolete after two months or so. Style is changing for everything from, casual wear, formal wear, party wears, and now activewear as well. Activewear is the segment of clothing that can be related to simple, casual, comfortable clothes for exercise and playing sports. Activewear has evolved in recent times. Activewear is now a perfect balance between style and comfort. People who wear athleisure outfits for sports or workouts should be comfortable enough in these clothes so that they can concentrate solely on the activity they have to do and not on the discomfort of the clothes they wear. So, how do you find the perfect activewear clothing line for women? Here is how you can:
1-     Material:
The first and the most important thing to check when trying to find your perfect activewear is the fitness fabric material. You should look for a fitness fabric material that looks and feels great with a 360-degree stretch that allows a superb fit and full freedom of movement so you're supported and can feel confident in any activity you're doing. Look for a fabric that is constructed using the best quality soft, stretchy polyamide/elastane blend of Lycra/Spandex. It must be super soft like cotton, strong, light weight, is breathable, odour resistant, fast drying and feels like a second skin. These advanced fabrics are suitable for all fitness activities because of their specific characteristics, such as: adjusted compression, fast drying, thermal comfort, antibacterial action and solar protection. We always advise you avoid rubber-based fabrics or plastic-based activewear clothes. These rubber and plastic based clothes don't absorb the sweat from the body and at the same time don't allow the sweat to evaporate. They don't allow for maximum comfort and are prone to chafing. Last but not least make sure the material is a sweat-wicking fabric. Sweat-wicking fabric pulls moisture away from your body, through the fabric so it can evaporate. This wicking action helps keep your body dry and cool, even during hot weather or while you're sweating.
2-     Seasonal Cloths:
It is very important to know that with the change in the season your activewear wardrobe should also change. Summer and winter will have two very different clothes. When its summer time opt for activewear clothing that is ideal for warm climate environments. For the winter you will need activewear clothes that is ideal for cold climate environments clothes. This is important as each type of cold and warm climate clothing wardrobe helps you maintain body temperature be it or hot or cold. This is very important while you exercise. If your body continuously loses heat, then there are very high chances of cramps. Body heat and warmth help your muscles be prepare for the load and exercise they have to take.
3-     Workout Type:
Different workouts have different activewear requirements. While running you need clothes that allow for a free moment of the legs, the fabric should not be extremely tight, but at the same time, the cloth should not be so loose that when you run it deters your speed. For activities like yoga and Pilates use clothes that are stretchable and help you with your flexibility. We always recommend 360-degree stretch material  that allows a superb fit and full freedom of movement. For training in the gym we recommend breathable, squat proof sweat-wicking, non-transparent leggings with loads of stretch.
4-     Fitness:
For women, a workout is extremely vital to stay fit in good physical shape.  The majority of us aren't aware of the fact that gym clothes have a pretty big impact on our performance level. Sportswear and fitness clothes are designed in a way to allow the utmost comfort and improved flexibility while you exercise. It is something that cannot be achieved with a casual outfit because they restrict your movement, cause skin irritation and can lead to shortness of breath.
When it comes to workout clothes, you have to dress for succeeding at the gym doing palliates or yoga. Researchers have admitted the fact that clothing has a symbolic meaning and impacts performance levels. Wearing good fitness clothes can boost your self-esteem. level of focus and inspire you to perform better. But deciding with women's fitness clothing is not as easy as it sounds, especially when we really don't know what to wear. The first thing you need to make sure that your fitness wear or gym wear fits you perfectly and provides you the freedom of movement. Loose clothing getting stuck in equipment will hinder your workout routine. Hence, always go for sportswear (Sports bra, Shorts etc) that is flexible and ensure smooth movement. Your fitness or workout clothes should provide you an utmost support for doing high-impact exercises. High-waist leggings are trending as the most reliable active wear for excessive exercising and calorie burning.